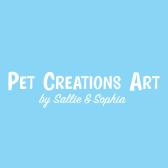 Pet Creations is one of the worlds leading online personalised pet retailers specialising in highly personalised portraits of your pet and family members.
Pet Creations - was founded in 2021 and seen massive growth month or month due to their unique and viral products.
We care about our customers and we care about getting it right. We are proud to offer our 'Love Your Art Guarantee' which is our promise that you will be blown away by the artwork you receive from us. We also offer 'Free Unlimited Revisions' which takes the risk out of buying from us as there is nothing to lose. Once your order has been confirmed one of our artists will start drawing your order and email you a preview before we print the product. This allows you to request any changes, free of charge so that the final product will be perfect once it arrives. We have received 500+ 5-star reviews on Trustpilot and 1500+ 5-star reviews on our website as shown here.
We wanted to stand out from the rest by offering the best quality personalised artwork on a wide range of products. Unlike some of our competitors, we do NOT use any apps to speed up the process of our work which in return, sacrifices the quality of the finished product. We are proud to work with extremely talented artists who are also massive pet lovers. Our artists hand-draw each pet with love, care and attention, capturing the personality of your pet in a style that you always loved.
To ensure that you receive your products safely and efficiently we use the most reliable couriers. For all UK orders, we use Royal Mail or FedEx and for international orders, we use UPS or FedEx.