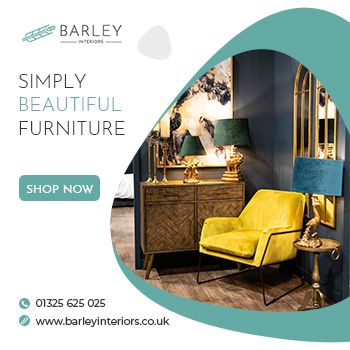 Barley Interiors We are Tom and Sarah, a husband and wife duo with an enormous passion for interior design and all things homely, and we are so happy to bring you Barley Interiors. Working together, doing what we love, has been a dream of ours ever since we met nearly ten years ago. We came up with the name almost immediately, during late-night discussions of how our future may look, merging our surnames as they were before we married: Barker and Coley.
A few homes, Degrees, the birth of our adorable tornado, Harriet, and a couple of career changes later it's now 2020 and we're finally here. Honestly, we could not be more excited to be able to introduce ourselves to you.
SARAH:
As well as being a wife and mummy, I am a multi-disciplined designer and 3D digital artist. I'm a professional Residential and Commercial Interior Designer, holding a Masters' with Distinction in Future Design. I am also SBID accredited (which means I'm up to date and full to the brim on all things design related!) We take pride in designing spaces that are more than just aesthetically beautiful: we create spaces that increase efficiency and lift your mood. It's a philosophy, as much as anything, and design is always on my mind. I'm often found in the office, peeking out of the forest of leafy green plants that surround me, and staring simultaneously at three screens. On occasion, I'll break away to kick out the high legs with Harriet to her favourite dance tune. And, before you raise your eyebrow, I didn't say I do it well…
TOM:
I'm the husband part of the husband-wife duo, and since I was a kid I've been coming up with ideas and designs for all sorts of enterprises. My skills are focused around multi-media design, marketing and software development, having spent the last twenty years working on multiple eCommerce (online retailer) platforms and design spaces. More recently I'm back to my previous love of woodworking. I'm creative and logical so designing functional pieces is right up my street! In my downtime you can catch me waving my arms around the living room, slicing blocks with virtual Lightsabers or strumming my guitar in collaboration with Harriet. Admittedly, she totally carries me.
HARRIET:
Our tornado is seven years old and already following in our footsteps. She's a professional Mess-Maker and is also our muse and inspiration. She is constantly testing our patience with her incessant inquisitions but blowing our minds with the way her own mind works, too. She's inherited her Mummy and Daddy's love of design and home furnishings, rearranging her bedroom on several occasions, and more recently designing her latest layout with mood boards and 3D digital plans (with a little help from Mummy!). When she's not dancing around the living room singing expressively to Frozen 2 or turning couch cushions into trampolines, you'll find her building the most exquisite mansions in Minecraft!
After reassessing our work/life balance during the Covid pandemic, we decided as a family that it was time to make some substantial changes and start doing what we love for a living. Bringing to the forefront our passion for design of home comforts and functionality, we proudly present to you Barley Interiors.
We've been able to combine both our individual expertise and passions to present a collection of unique and beautifully hand-crafted, furniture & home accessories, that will not only look perfect in any home, but people will love to use for many years to come.
We're grateful you found us – and we're sure you'll feel the same in no time.