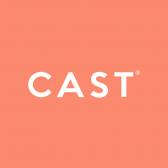 CAST a super fun way to design and create pretty much any jewellery piece you can imagine"
Kit owners across the globe, are given a unique opportunity to craft bespoke jewellery pieces from home. No skill or design experience required, just a CAST kit and a little imagination (even that we can help with). Kits are equipped with a selection of carefully curated shaping tools, sandpapers, wax supply and creative guidance; simply create in wax, return to our workshop, and we'll bring to life in solid Gold, Silver or Platinum. Our expert Silversmithing team, based in Birmingham's iconic jewellery quarter (UK), cast in solid recycled Gold, Silver or Platinum, lovingly hand finish, hallmark, individually package and return, ready to wear within just 4 weeks.
Creative inspo and support can be found online at The Makers Table ("a place for ideas to thrive and creativity to flourish"); step by step design guides, tutorials and mini-masterclasses are added each week, and accessible only to those with a registered kit. The Makers Table is an online resource, designed to keep #CASTcreators regularly inspired and entertained www.experiencecast.com/the-makers-table/
We launched the CAST brand back in 2016. We have since cast over 20,000 bespoke pieces (and counting), each one as unique as the last. We have cultivated a small, but highly engaged, and supremely talented 'creator community'. It is our ambition to continue to grow the brand and connect people on a global scale.