BOTB was established in 1999 and is located in major airports, shopping centres and online. BOTB operate a spot-the-ball competition and every week someone is guaranteed to win their Dream Car.

Over £19 million worth of prizes have been given away to 300+ delighted winners worldwide.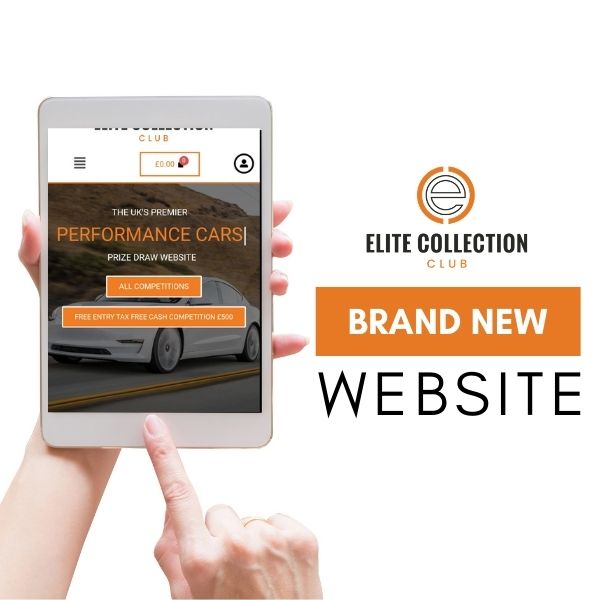 Elite Collection Club Ltd Online gaming is a massive and growing market worldwide. It is our intention to capitalise on this by offering a range of prize draws, covering an array of luxury items, from Apple products, through to high end watches and the ultimate in luxury cars, with the intention of realistically bringing dreams to the masses.
We have been established 2 years and our concept was born out of the above principle. To bring people closer to their desires, with far less than lottery like odds. Finding this balance within each draw underpins the dedication of our experienced panel of directors.
We operate on a strict ticket limit per draw in order to prevent dilution and increase fairness, maximising the chances of winning with modest ticket prices. Our target market are players with sufficient disposable income to be able to afford the ticket prices without hardship, but who are unable to buy these dream commodities outright.
Under UK law and current gaming commission regulations we are not classed as gaming and no licence is required, however we must ensure all entrants are 18 years of age or older which is clearly stated within our terms and conditions.
Our website is state of the art and is backed up by dedicated experienced staff, with a broad range of business experience, who can cater to the whim of players' needs and also liaise closely with any affiliates. We lean very heavily on player support and responsible gambling as part of our core values. This extends to offering up a percentage of all revenue to various charities.
The worldwide online market is worth £335BN. The share that we are aiming to tap in to and exploit is worth £6.5BN based on the areas we are promoting both geographically and in terms of prize categories. Whilst there are many operators in the marketplace, they appear lacking in visual appeal, are mired with functionality issues, and appear somewhat deficient of back office support to the end user.
Our business is already well grounded, and we have had a number of live prize draws already. With the right leverage we will be able to become well known in the marketplace and our clean, smart website concept will differentiate itself from the competition.
A few of our examples of competitions include:
1) Win £5000.00 limited to only 1800 tickets at a cost of only £4.25 per ticket
2) Win a Sony playstation 5 limited to 600 tickets at a cost of only £3.00 per ticket
3) Win the latest Apple Airpods max limited to 400 tickets at a cost of only £2.00 per ticket
4) Win a Tesla model 3 limited to 4000 tickets at a cost of £16.00 per ticket
All our competitions are independently verified.
Majority of competitions offer cash alternatives to winners.
We will launch in the coming months a range of watches to include Rolex, Cartier, Breitling , Omega , Audemars Piquet to name just a few .
We will launch a 4 X 4 range of cars including cars from Land Rover including the Range Rover Vogue , Sport , Discovery and Evoque.
Also coming shortly will be a range of vehicles from BMW and Mercedes as well as Audi.
We aim to sell at least 4 cars monthly and then expand sales further to 4 vehicles per week.
We already have a luxury holiday on offer and will expand the holiday offerings.
An agreement has been reached with Aston Martin to feature their range of cars to include the all new 4 X 4 DBX, Superleggera model and other models in the range.
Quicklinks:
Home
·
About Us
·
Our Competitions
·
FAQ's
·
Charity
·
Winners
Elite Collection Club Ltd
MyOffers is the UK's leading competitions website connecting consumers with information and offers. The web site is also a free entry point for some of the most valuable prize draws on the Internet, with up to 200 prizes live on the site at any one time .

Entries are gained when users answer our partner's sponsored questionnaires on the site (thus opting-in to that particular offer). MyOffers practices 'permission marketing'. This means that when a user submits their questionnaire answers they do so in the understanding that they will receive offers (only from MyOffers, its sponsors or its clients) based on the information they have provided.
OurComps We're a bit like a well known lottery, but with a much better chance of winning big!
From cash to cars to technology to hot tubs(!), our competitions are for prizes which you want to win!
We've been operating since November 2019, and currently have over 13,000 fans on social media, and over 10,000 registered users.
The way we operate is simple. Entrants choose the competitions they would like to enter, answer the qualifying question, and pay the relevant entry fee. Once all entries are sold, the live draw is carried out on our social media channels using Google's random number generator. If your number is drawn, you win, simple!
Our entry fees are typically between £2-£5 per entry, with odds of winning starting at just 1 in 100!
Quicklinks:

Home

·

Re

gister · Current Competitions · Buy Credits · Entry Lists · About Us · Previous winners · Lockdown Quiz
OurComps