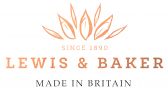 Lewis and Baker Exceptional Cake Gifts By Post
There's never been a better time to earn revenue with a fast growing gift brand. At Lewis and Baker we pride ourselves on delivering exceptional cake gifts by post. Our user friendly website and dedicated ecommerce customer service means we are able to bake in large volumes and distribute luxury baked goods fresh within a few days.
Rapidly Expanding Range With Flash Promotions
We have a rapidly expanding range including cake gifts that come with luxury gift box that can be personalised by occasion - thank you, with love, happy birthday, congratulations and thinking of you. Customers can also include a personalised gift card in their package at no extra cost. Shipping is free over £25. We offer special offers, major weekly promotions and flash discounts to maximise exposure and revenue generation. These are available for our affiliates partners to take advantage of.
As Featured In Hello Magazine, The Daily Mail & The Metro
This year we have invested heavily in our marketing campaigns and run regular PR campaigns around special occasion date. We have already been featured in gifting lists including the Daily Mail, Hello Magazine and The Metro. We regular shoot new photography of our range and have special ranges planned for gifting occasions such as Valentine's Day, Mother's Day and Easter.
Timeless Recipes, Traditionally Crafted
From the finest, shortest shortbread to the perfect brownies,from the gooiest flapjacks to rich chocolate cakes, our cakes by post are the perfect mix of great taste and the highest quality. Many of our recipes have been passed down through generations. Our family has been baking since 1890 and is constantly developing new flavours you've never had and fresh twists on old favourites. Our luxury cake gifts cater to every taste and budget with small and large options, meaning it's easy to find the perfect gift whatever the occasion.
Free Delivery on all orders over £25