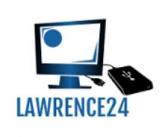 LAWRENCE24 We are a reseller of multi-officially authorized IT products from the UK, with diversified prices
LAWRENCE24 provides a wide selection of more than 400,000 stock products, and more than 155,000 references from the largest brands, which are carefully selected from the IT equipment world.
Its very diversified and continuously enriched products and services include models and accessories from major brands such as TVs, high-fidelity, photos, multimedia, notebooks, printers, image processing, graphics cards, DIY, games, storage social security, network accessories, etc. The latest innovation of the basic model...and, at the best price!
Product
To this end, LAWRENCE24 relies on the strength of its procurement centre, which directly negotiates prices with brands as much as possible, so that customers can benefit from the most favorable prices.
With its purchasing power and commercial responsiveness, LAWRENCE24 quickly established itself as a major player in home appliances, always at the forefront of novelty and discounted prices!
Impeccable service quality.
The benefits of Lawrence24 and their affiliate programme are:
The lowest competitive discount prices for IT products, including mobile phones, tablets, lenses, and brand new products
Authorized reseller in the UK
Ship next business day